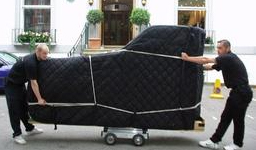 For most people, moving is not fun or convenient. At
Arturo's & Son's Moving
, we understand the stress it causes and want to make the process as easy and enjoyable as possible for you. We provide friendly, efficient and careful professional moving services to make your move smoother and easier. This dedication to our clients has resulted in a long track record of success. Our first-time customers become our long-term customers time and again, choosing Arturo's & Son's Moving and Hauling for all their moving needs.
Commercial Moving Services
Is it time to relocate your business? We offer the detailed precision you need to ensure your assets are protected. Whether you need to move one office or an entire building of operations, we have you covered with commercial moving services.
Residential Moving Services
Our team offers top-quality professional moving services in Santa Barbara, CA. Our customers know we take special care with their items and treat their property with utmost respect. It's why we are known as a leader among residential moving services in Santa Barbara, CA. We are also piano movers!
Retirement Home Relocation
Senior Living Relocation
Our movers are experienced with retirement home settings. If you or your loved one needs to relocate to or from a retirement home, we're the experts to call.
Deliveries
Not everyone owns a vehicle that can handle large items. When you need something delivered that won't fit in your trunk, contact the pros at Arturo's & Son's Moving. We'll carefully deliver it to your door.
Hauling
Are you ready to part with that old couch? Is Grandma's dining set on its last leg? If you have items to haul away, we have a wide range of vehicles to haul loads of all sizes.
Packing
When it's time to move, packing all your worldly belongings into dozens of boxes can feel overwhelming. We offer detailed packing services to ease your pain. Let us handle the packing, while you pick out your new place.
Unpacking
You've arrived at your new home. Now it's time to unpack. Often, this isn't any more fun than packing. If you'd like some friendly, professional help, contact the unpacking pros at Arturo's & Son's Moving.
Get a Free Estimate
When you choose Arturo's & Son's Moving, we may not be related, but you'll feel like we're family. Contact us today for a free estimate in person or over the phone at 805-452-5061.