Professional Movers in Santa Barbara, California
Arturo's & Son's Moving offers expert relocation services to accommodate any size move. We are committed to making your move as painless as possible, starting with a free estimate in person or over the phone. Enjoy peace of mind when your belongings are in great hands.
Professional Moving Company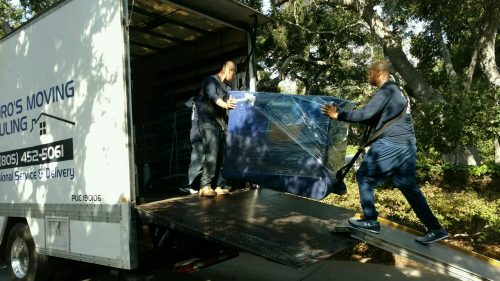 Locally-owned and -operated, Arturo's & Son's Moving is your trusted professional mover in Santa Barbara. We are local movers with our own fleet of vehicles, allowing us to handle moves big and small. We offer high-quality customer service, affordable rates and quick turnaround. Our moving services include, packing and unpacking, as well as hauling, to discard items you no longer need. Whether you are relocating or doing some spring cleaning, our professionals offer the top-level care you desire to properly handle your property. Your satisfaction is our top priority, and we are dedicated to making your moving and hauling hassle-free.
Locally owned and operated, Arturo's & Son's Moving has been on of Santa Barbara's premier movers since our founding in 1999. With extensive experience, we are well established in our industry. We are proud members of the Better Business Bureau and are fully licensed and insured. We are not the biggest moving company in the area, but that has never been our goal. Our focus is on quality service, one move at a time, so you'll always choose us for your moving and hauling needs. Arturo's & Son's Moving genuinely cares about our customers and their furniture, and it shows. Let us show you just how hassle-free and easy moving can be!
Our business is locally-owned and –operated in Santa Barbara, CA.
Established in 1999, we bring extensive experience to every job.
We offer free in-home or over-the-phone estimates.
We are fully-licensed and -insured.
We are a member of the Better Business Bureau (BBB).
Enjoy Peace of Mind
Put your property in the hands of trusted professionals when you call Arturo's & Son's Moving for your next move.
For All Your Moving Needs, Call Arturo's & Son's Moving! Proudly Serving Santa Barbara & Surrounding Areas, Including:
Santa Barbara
Arroyo Grande
Santa Maria
Agoura HIlls
Thousand Oaks
Oxnard
Ventura
Carpinteria
Simi Valley